I've written a little about liturgical revision at the Episcopal Church's 2018 General Convention, and I've tracked some of the legislation as it was worked in committee and appeared in legislative sessions. A commitment to inclusion is very present in the actions of our church. Part of that is inclusive language in our worship. Another part of that is language that expresses the expansive image of God. This is a multi-layered thing, intersecting other Convention initiatives, and it's  been visible in many ways.
A wee look at inclusive language
Let's have a wee look at inclusive language, courtesy of the church glossary:
Inclusive language:
Spoken and written language that intentionally avoids word use that is needlessly gender-specific or exclusive. Inclusive language also means the use of male and female imagery and metaphors in a balanced way to express the truths we know of God. Inclusive language may challenge the church to discover new depths of meaning and possibility in the words of faith that we use.

Traditional English usage referred to God and humanity with male pronouns. A male pronoun was often used "generically" when the pronoun could refer to either a woman or a man. This traditional English usage came to be perceived as demeaning and exclusive of women. It was judged to be offensive by women and men who called for a more inclusive use of language, especially in the life and worship of the church. This call for inclusive language was rooted in the theological understanding that God includes and transcends human masculinity and femininity. God is neither male nor female. Both women and men are equally loved and included by God and should be valued and shown respect in the church's language.
The overwhelming use of masculine language for God and for human beings is inescapable in the BCP. And there is a plea from our siblings throughout the church to include them, along with proposed legislation to change it.
A wee look at expansive language
Now, a wee look at expansive language, which isn't in the church glossary :-(. Expanding the words we use to describe God demonstrates that God can't be contained by our language, and certainly not be contained only in a male form with male nouns and pronouns. Expansive language can communicate the nature and activity of God. Throughout Scripture, God is referred to as a king, a consuming fire, a fortress, a creator, and a still small voice… you get the gist. There is value in a gender-based image of God, but not if it's always just one gender, and not your gender. God's bigger than that.
Seems to me that the debate about inclusive language is chiefly a question of how broad our conviction that we are all created in imago Dei really is. #gc79 #jesusmovement

— Marshall Jolly (@MarshallJolly) July 10, 2018
Lex orandi, lex credendi
Lex orandi, lex credendi is a key concept in all these discussions. Commonly put, "as we pray, so we believe." It means that how and what we pray not only expresses what we believe, it forms what be believe. So if you want to know what Episcopalians believe, you look at what and how we pray.
This formation part is crucial. Our liturgy mostly excludes women and non-male gendered ideas. Shedding patriarchal language isn't just a knee-jerk cultural response; our worship words show what we value.
Intersecting #MeToo
This convention had listening sessions and soul-searching worship and is paying attention to the harm the church has done or allowed to people. People of all genders harmed by the church are seeking honesty, justice, and reconciliation. And moving past this lamentation, it is hard to avoid that the BCP language doesn't move us forward in equalizing how we embrace our whole community. "The western European patriarchal decidedly male and decidedly white worldview of our current BCP provides a theological framework in which women and others at the margins are much too easily seen as "less" and therefore more easily exploited, abused, and harassed," as deputy Katie Sherrod wrote.
The convention is confronted with the low number of bishops who are women – the glass ceiling is real. On Monday, July 9, people wore purple scarves to support electing women to the episcopacy.
Heard at #GC79: even if every one of the 22 bishop elections currently pending resulted in a woman being elected, the proportion of women in the House of Bishops would still be less than 30%.

— Penelope Bridges (@penelopebridges) July 9, 2018
Intersecting racial reconciliation
The Church is committed to and is hard at work on the holy work of racial reconciliation, and it is a focus of this General Convention. The venom of racism runs deep and lurks in places unaffected by policy change. I find it inescapable that our BCP worship is fundamentally white Anglo-Saxon and has little option for embracing worldwide cultures. There have been calls for language that includes and welcomes all people, whatever their race or ethnic or regional background. This can go beyond proposals to expand the holy people included in the church commemorations, feasts, and fasts. My friend Katie Sherrod shared, "Revising it [the BCP] to make more expansive and inclusive is not only theological work but also work toward gender and racial reconciliation work."
We do have some of this already, right?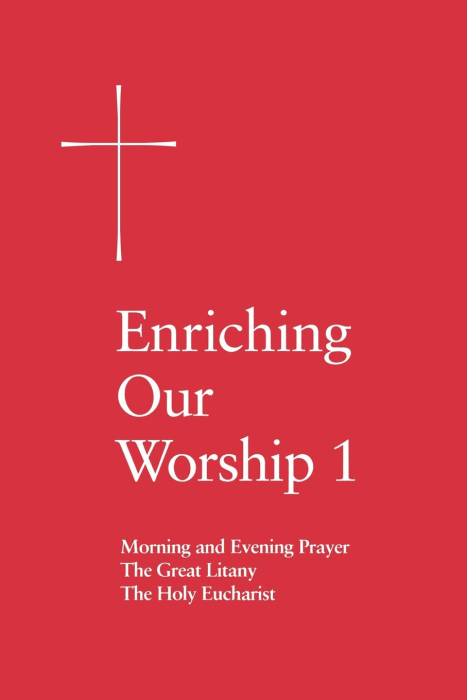 Yes, Enriching our Worship (EOW) already offers expansive and inclusive language, and has a normal Anglican liturgical flow in all services. But, as a supplemental liturgical text, it may only be used with the permission of the diocesan bishop. And until that bishop-approval caveat is removed, or bishops' hearts are turned in allowing its use, many in our pews cannot experience common worship with what the church already has created. And until that bishop-approval caveat on use is removed, using what the church has available today cannot expand.
People in our pews and speaking at General Convention are calling for expansive and inclusive language to become mainstream and available to everyone. Freeing up EOW is one way.
Cruise control in worship
A lot of Episcopalians seem very complacent doing cruise control worship. I knew the 1928 BCP words well from my childhood and adolescence. I know most of the 1979 BCP prayers and responses by heart, and I admit that it is comforting. That depth of connection is sustaining in our lives.
But.
That desire that I've heard expressed at home and at General Convention to NOT have worship disrupted by anything new is totally self-centered. I'm calling that out right now. It's "me" over "we." It's not wrong to be challenged to see God and other anew, and speak new words together aloud, and share and digest new spiritual food. Change calls us out of complacency and out of a half-a-lifetime of the same words, to experience something new and inclusive for all in.
But.
What if the church liturgy doesn't change? How many people fed up with the male-only image of God and with the masculine- or binary-dominated concepts of "other" will become infrequent attenders, or seek an accepting community outside of church? Belonging and acceptance are primary motivators in community.
But.
We can't ignore that shifting church attendance patterns bring oodles of challenges in new liturgy. When people don't attend as often, understanding liturgy takes longer. And that takes more verbal guidance and instruction from our worship leaders and priests. That's a change, but it's not all bad – there's opportunity there. I hold that inviting and explaining in worship is formational and that it gives us all better tools for evangelism.
So why not leave it all alone?
We can't ignore the pleas of our siblings (not just sisters and brothers) for whom the words in our BCP are not inclusive. We can't ignore that the father-king-lord, supreme-and-distant ruler, stratified-anglican-court "power" language doesn't fulfill all we believe about the image of God, and it doesn't reflect how God's people live and move in today's world in American or other cultures. There is a spiritual hunger in our church for more.
We don't have to deconstruct what we have. We don't have to sacrifice the core of liturgical tradition. We do have to offer some moneypay to make a change. We do have to unselfishly sacrifice some comfort. We do have to see community and inclusion as vital – and growing in this new way is evangelism!
Something more, something new
This "more" or this "new" is waiting to be released, or born. I don't know which. The Holy Spirit is among us pulling the church into this work.
What if there's no revision, no path for change?
Given the length of time for BCP revision, I can logically expect to be buried with the 1979 Book of Common prayer in its current form.
Grant to us who are still in our pilgrimage, and who walk as yet by faith, that thy Holy Spirit may lead us in holiness and righteousness all our days. Amen